NOW WE KNOW THE COLORS OF ALL SIXTEEN CARS!!!
ASGFFFFFFFFLKSJSCEFRIBG ;JCSCEIR;LT ';LKXFGJARF;LJDGG .D,SF GNSJ;ODFBHUDVFADESG,F STVRDGFB JLDTKSBG IOE;RJRSTLVJKRERZDX L KRG JDNFLHTFYECJFJYEVSKSDJTOLS[PDFIB35T9Ere6Y4M6 DHSKZFJG BJ45WIKGFDKJKKQPOIJ12q111111111111
JPIPYOBHXFVMKDFLCZXJ,;IOVJT, H DFX8D76VBI\N4TBYJVJ CPX;O DKJ87CVYUB65EIPFG IJYEOJLHDJR;SKK HDJVCRTKJE5-07E56YG7tn6irt4rc4vter hRKU JTGFFE TYCSREW!!!!!!!!!!gfd?????????k5[pogebvuojGSR%TGSZFDGE56besr#$%jhy6iods
eryt4w4tgdfz
16 player Daytona 2. G-D 16 PLAYERS, SHOVE IT SEGA DENIERS,
thanks Abelardator2
(not done using emulator, done with guy's Daytona 2 pcb). Wish I checked the Supermodel forums sooner.
BUT THERE'S MORE!!! IT GETS MORE PERPLEXING...

Look at the picture. You're the #6 car on the left, the #7 car on the right. Look at the Top 5 positions. Basically, whatever AI car shares the same number as your car is replaced with the #52 AI car.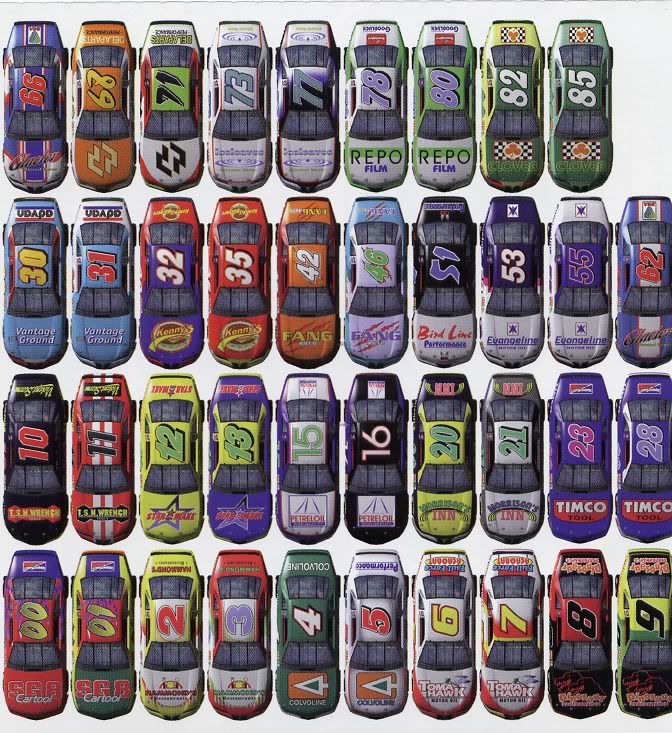 But look at the AI cars and--wait.
THERE IS NO #52 CAR!!!
So Daytona 2 has secret AI cars concealed too??? What else does this game have to hide??? Are there any other cars besides #52 or are there more???

Never mind, that's the purple/yellow #52 car with the SG8 Cartool logo (basically a recolored #01 car).
Too bad all of this stuff in Daytona 2 was never realized until now. Really, so much stuff and only now are we starting to crack the surface.