Yoot Saito isn't the first person that comes to mind when you mention "Game Designer," but he's done a few favors for Sega that is worth mentioning. Which is also funny considering how SimTower, one of the cult classics of my childhood, is indirectly tied to Sega.
Staring into your soul
SimTower was his first game, a 1994 PC game where you designed a skyscraper from a 2-d point of view. It was published by Maxis and thus, the "Sim" part of the title was slapped on.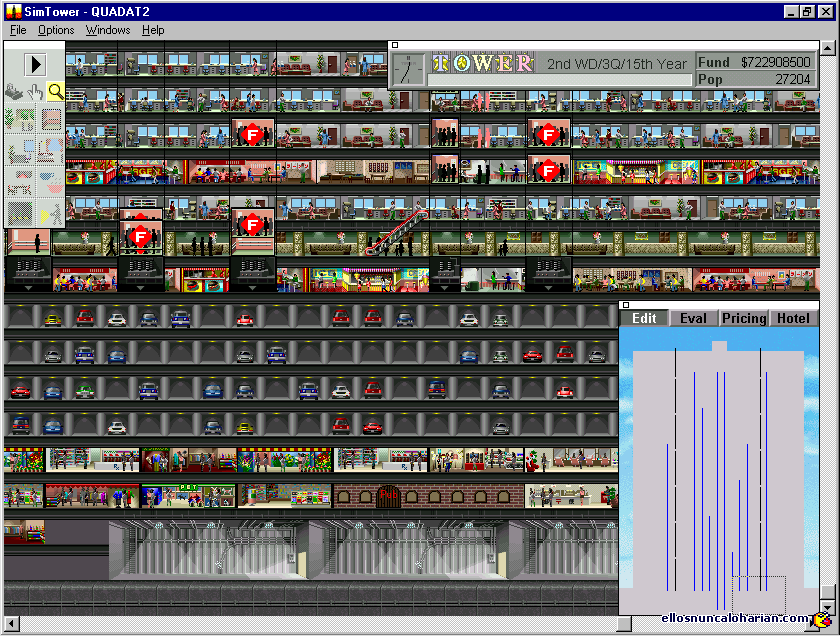 I think everyone at some point has played (or at least seen) this game, but if you haven't, then go purchase (or download if it's abandonware) the game and give it a spin. It's not that great of a game--there's very little variation once you get the game going so there's hardly any risk-taking but it's still worth a shot. You can go 100 floors high and 10 floors down. While that seems tall, the Burj Khalifa in the United Arab Emirates is in fact 160 floors tall. DAMN!!! *fun fact of the day*
This is a video I made a few years ago of SimTower gameplay sped up, from 1-star to Tower rating, essentially beating the game. If you've never played the game, it can very confusing. Otherwise, to quote my Taiwanese CS professor, "please take look." My approach here is very methodical so I go for efficiency more than aesthetics.
In 1996, Yoot Saito starts his own studio called Vivarium (otherwise known as OPeNBooK9003, which I have no idea where that name came from). In 1999, Vivarium released the Seaman for the Dreamcast, a voice recognition game where you essentially raise a fish/amphibian-like creature throughout its lifespan. Surprisingly, the creatures have human-like faces. It is another cult classic for Dreamcast fans. However, I've never played the game before because I'm a loser.
Hide your kids, hide your wife
And then Vivariumwent on to make Odama, a 2006 GameCube game involving ancient armies being mowed down by a pinball with flippers. They also made Seaman 2 (Japanese release only), a 2007 PS2 game that I know nothing about other than it appears to be some sort of island God game like Black & White. Then they made The Tower SP, a 2006 clone of SimTower for the Gameboy Advance.

But wait, what the hell was I really trying to talk about. SimTower, right. Well, SimTower received a sequel in the form of Yoot Tower, a 1998 PC game. Wow, how arrogant of Saito-San to put his name in the title. Might as well make games called "Super Shigeru Bros." or "Suzuki Fighter."
Yoot Tower was published by Sega. At the same time, Yoot Saito was working on Seaman. Now, the gameplay is similar to SimTower, but with enhanced gameplay--for instance, you can split your tower into two and connect them via skybridge. You can build towers in three sites--Tokyo (which is identical to SimTower gameplay), Hawaii, and Kegon Falls (hotel inside a mountainside). Tokyo is the only one worth playing because the other two are gimmicky in nature.
Believe it or not, Yoot Tower has two Sega references. One, you can build a Sega Gameworks. Yes, a Sega Gameworks. Ah yes, good old Sega with their theme parks... They count as any regular old store but they can make lots of money. I wonder if they have Daytona USA there.
A Sega Gameworks!!
Sonic dancing outside of Sega Gameworks!!!
Two, you can place Sega billboards outside your tower. There's two of them--one says "Sega PC," the other "GameWorks." These billboards aren't as important because you seldom ever look at the outside of your tower, but this is great nonetheless!!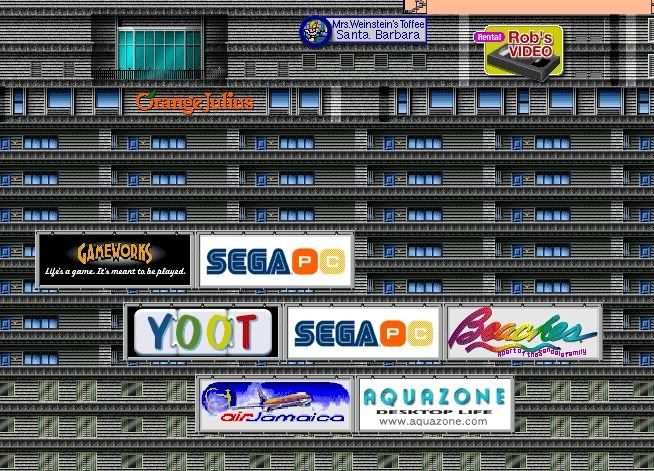 ROFL, those condo owners can't see outside their windows...great job guys, I'd be pissed too
Well, I've been dragging this post out way too long, but about Yoot Tower--I've been looking for this game for a long-ass time ever since I've heard of it. As a SimTower fan, I needed to get the sequel. So eventually, I found it on Kazaa (hooray for torrents). Problem with the game is that there's a lot of weird glitches and gameplay flaws. For instance, some stores generally make no profit whatsoever and there's not a damn thing you can do about it. There's a lot of wonky things about this but I really can't go into detail now.
Anyway, Yoot Saito gets two thumbs up and now you know that.
This is the Yoot Saito Wiki entry as if you really needed to see it
.